EVENTS
Range's dedicated event staff will work with you to deliver a customized event that will go above and beyond your expectations. Let our event staff elevate your brand by providing the best event space in Des Moines. Menu tastings and walk-thrus of the space can be provided prior to your event to ensure its success. We have crafted a new tool for you to use to help make your experience at Range as perfect as it can be!  Contact our event team now at events@rangedesmoines.com
Range spacious building offers three different spaces perfect for any event. Our three areas compliment your event and fulfill your space needs.
Range has an American cuisine restaurant where the menu is made up of the freshest ingredients sourced primarily local & from the Midwest. Range elevates and twists traditional American cuisine to another level by using only the highest quality ingredients in every dish. A kitchen that prides itself on making everything from scratch and a casual restaurant where jeans are welcome, amplify the quality food and atmosphere of fine dining. Range specializes in Bison, one of the only places in the Midwest serving Bison ribeye, Bison filet, and a range of custom bison burgers. With a can't beat menu, terrific service and fine-dining options that bring downtown vibes to the comfort of the suburbs, Range is THE place to visit.
2. The Chic Sports Bar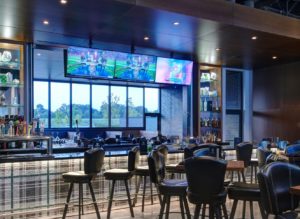 Range's double-sided sports bar serves both an indoor seating area and a 3 seasons temperature-controlled porch. All bar and patio tables offer open seating. With fine dining and the best signature cocktails in town, Range's bar brings a new type of sports bar into the community, perfect for networking events, Happy Hour specials or parties of any kind. The extensive beer, wine and whiskey lists provide something for everyone!
3. Indoor Golf Simulators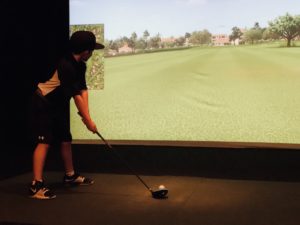 In a private area of the building, we offer access to 6 state-of-the-art indoor golf simulators adding an entertainment feature to our unique concept. Whether you are a golfer or not, Range's simulators offer a fun time for anyone. With over 70 courses to choose from, the golf courses provide a range of fun. not to mention the different games you can play: closest to the pin, driving range or one of the two putt-putt courses or skeeball. Perfect for all ages and skill levels, Range brings the game to you!
If you are interested in scheduling your event today Range offers a few different ways to do this. For simple simulator requests, you can schedule them online, or if you'd like to schedule a meeting or phone call, Range is happy to coordinate time so your event surpasses all of your expectations. Our event team can be reached at (515) 252-7500 ext. 6, weekdays from 9 to 5 or 24/7 via email at events@rangedesmoines.com.  A representative will reach out to you on the next business day as soon as they receive your information.
CATERING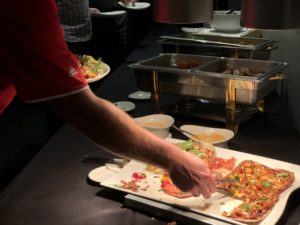 If you are tired of the same-old catering options, prepare for a new, unique and better option. Range is here to serve you and turn your seasonal event into the event of the season! We only use high-quality ingredients in all of our menu options.
With three different menus, Range allows for catering at any time of the day. Range's features classic American fare such as steaks, seafood, burgers, salads, flat breads, and more. Prepared from scratch, our meals use a variety of local products as well as prime beef, grass-fed bison and Wagyu Beef.
Range's culinary team will work with you to deliver a customized menu that fits your everyday needs or special event. Tastings can be provided prior to catering to ensure your event's culinary success, anytime, anywhere. Let our catering program elevate your brand by providing the best catering option in Des Moines.