GENERAL INFORMATION: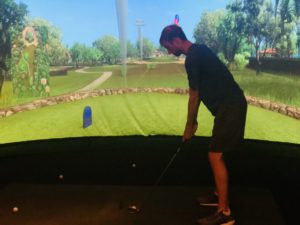 This year we are trying something completely new and will be running two separate leagues, with the option to be involved in one of the two or both! These leagues will run on Sunday evenings, starting at 5 p.m. and run until close. League #1, running from November 10, 2019 to December 22, 2019, will run for 7 weeks. League #2, running from January 12, 2020 to March 15, 2020 will run for 10 weeks. All public league members will have EXCLUSIVE access to our simulators at this time and will have open play available until close after finishing that week's course!
Courses will be announced weekly on our Range Golfers Facebook Group every Tuesday. Players will have FULL access to both the dining and bar menus as you play. As an added bonus, Range will offer league members an exclusive offer of half-priced Sims available every Tuesday thru Thursday from 9 a.m. to 6 p.m. to play the course in advance, conveniently timed during Range's half-priced Happy Hour. Every Saturday we will send out an email listing off tee times, course settings, and line-ups for that weekend's course.
LEAGUE PRICING:
Leagues are priced according to length of weeks. The first league will run for 7 consecutive weeks and the second will run for 10 consecutive weeks. A week of handicap establishment tee times will run the week before each league for an additional week of play.
First League: 
$240 = $30/week or $4.25/hour
Second League:
$330 = $30/week or $4.25/hour
Combo Pack (Both Leagues): $400 = $21/week or $3.5/hour  
EXCLUSIVE LEAGUE BENEFITS:
League members will have EXCLUSIVE benefits available, year round. In addition to a huge savings on golf, league members will have access to Range's private Range Golfers Facebook Group where additional updates, information, and exclusive offers will be posted throughout the competitive and non-competitive seasons. 
Half-priced practice rounds will be available to members every Tuesday thru Thursday from 9 a.m. to 6 p.m. so members can practice on that weekend's course. Need more? Cash prizes will be awarded to the Top 3 scoring members in each league! 
LEAGUE SCORING:
Range's public leagues will be scored by individual stroke play based off of a handicap established in the simulators. Details regarding handicap establishment are below. 
Each week's scores will be collected for a sum total; scores will determine placement for the following weeks. Standings will be based on points: 1st = 1, 2nd = 2, etc. A tie for a position will give both players the same number and scoring will pick up at the golf number. If two people tie for 2nd the next player will get 4th place. Each week the place finish will be averaged out to re-adjust standings. The top 4 leaders of each week will be posted on the private Range Golfers Facebook page. 
HANDICAP:
Each league member will be given 90 minutes of complementary sim time the week before each league to play 9 holes on three different courses for a total of 27 holes. Our handicap algorithm will take the average of all 3 courses over par and double that number to calculate the player's handicap.
IE: Course #1 (+6), Course #2 (+8), and Course 3 (+10), Avg=8×2=16 Handicap. 
After the first 3 weeks of league, Range will take the scores from the first three courses and re-figure handicaps based on the average scores of all 3 events and that will be their handicap for the next 3 events:
IE: Course #1 (+15), Course #2 (+10), and Course 3 (+20) = New handicap of 15
For the Championship round we will still utilize the same handicap. We will also add an additional 3 handicap strokes for players in places 1-6, 2 handicap strokes for players 7-12, 1 handicap stroke for players 13-18, and no additional strokes for players 19-24. 
Any player who re-figures their handicap number after 3 rounds of more than 12 strokes better than their original handicap number will be deducted 5 handicap strokes to prevent handicap padding.
SUB POLICY:
Range allows subs a maximum of 2 times for the first league and a maximum of 3 times for the second league to prevent score padding. The Range staff must be informed the Friday before league of the substitute's name and contact information. If you are unable to provide a substitute your score will be based off of the average of the bottom 4 scores of that week's course.  
WHAT TO BRING:
Bring your own clubs for maximum accuracy within the sims. Range provides balls and adjustable tees. Please be mindful of your footwear: Range does not permit metal spikes in the simulators and asks that your shoes be clean of mud, grass, or salt that may be stuck to the bottom of your shoes.
Arrive 10-15 minutes early to your tee time to provide yourself some time to find your assigned sim, grab a drink, or to change clothing/shoes.
RESOURCES: