Hometown Comforts | Unique Ingredients
Des Moines' Hidden Gem.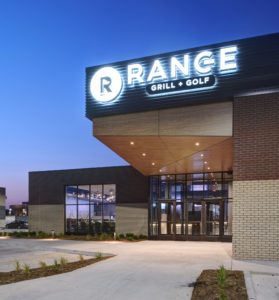 Range's signature menu items, professional bar program, and luxurious indoor golf simulators provide a unique experience for a night out, business meeting, happy hour, or other event. We offer a unique combination of top tier food, distinct craft cocktails, and an entertainment feature all rolled into one package.
Range isn't just a restaurant and it isn't just a "simulator place." Our concept combines Des Moines unique foodie scene with the comforts of Des Moines' "small town in a big city" vibe as well as a unique entertainment opportunity of our indoor golf simulators, making it a hidden gem of Des Moines.
With three individual concepts that blend into a unique experience, Range offers patrons young and old an experience never before seen in Central Iowa. You can enjoy any part of our facility individually or come and enjoy all aspects of Range with friends, family, co-workers, and teammates. Our American cuisine restaurant features signature steaks, pastas, one-of-a-kind burgers, great appetizers, and more. We pride ourselves on using the freshest ingredients sourced primarily local & from the Midwest, along with the best quality proteins we can offer at reasonable prices. Our chic cocktail bar is double-sided, giving our guests a look at over 10+ TVs tuned into popular channels, games, or request a channel and our staff will do their best to accommodate you! While most "sports bars" offer standard draft beer and mixed drinks, we pride ourselves on our carefully curated cocktail menu full of house-made ingredients, privately selected bourbon barrels, and quality liquors. We also have over 20 beers on tap including seasonal picks as well as one of the largest selections of special reserve whiskeys in the state of Iowa.
Our custom indoor golf center a one of a kind space. Originally installed in 2017 and recently upgraded in December of 2022, our (6) full-service, PGA-endorsed indoor golf simulators provide an entertainment option for the most serious of golfers to guests just looking for an entertainment option for a night out. We offer our full food and cocktail menus in the simulators and conveniently have order kiosks in each bay as well as a full-service staff to help set up your tee time to your exact specifications and recommendations from our food and drinks menus. Our simulator options vary in privacy from ones connected to our bar area (perfect for events!) to our more secluded curved screens located in a more private area of the building. Our space set-up is designed so that each guest's experience can be as personalized as desired.
Curious to know more? Go to our Contact Page to ask us questions! Or if you're wanting to join our team, see our open positions and fill out our application today!